EVENTS
Unveiling the Mythos of Iran: Liberating Our Stories, Liberating Ourselves
Date: May 21, 2023
Location:

Philosophical Research Society
3910 Los Feliz Boulevard Los Angeles, CA 90027
Schedule:
Registration & Light refreshments
11:30 AM - 12:30 PM
Conference/Lunch
12:30 PM - 6:30 PM
Dinner
6:30 PM - 8:00 PM
$25 suggested donation
Ten presenters, curated by mythologist Maryam Sayyad:
Nasrin Beyraghdar, Paul Dara Shahparaki, Omid Arabian, Sholeh Wolpe, Sara Mashayekh, Khodadad Rezakhani, John Bucher, Ethan Friedland, John Colarusso, William Linn, and Tom Cheetham with a special performance by BANAFSHEH SAYYAD.
THIS EVENT IS IN ENGLISH.
SEE BELOW FOR PRESENTER DETAILS.
MARYAM SAYYAD PH.D., MYTHOLOGIST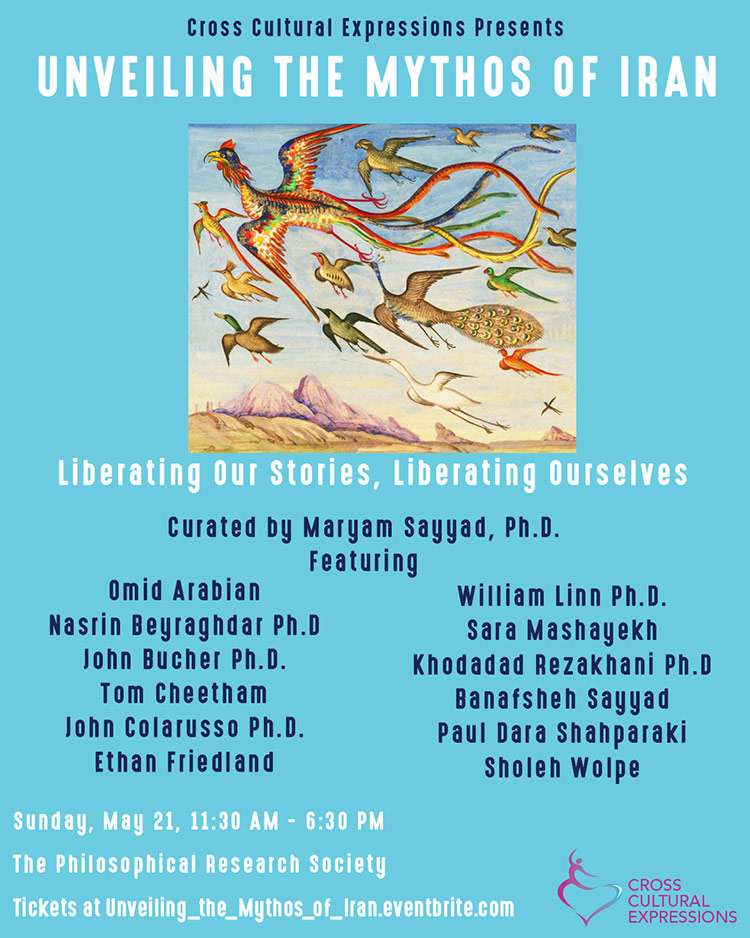 ABOUT THE CONFERENCE
This conference is geared toward Iranians educated outside Iran and non-Iranian scholars of myth, religion, philosophy, and literature. We are all more or less occluded when it comes to Iran's place in the world mythological record. One main reason for the gap in our knowledge is that what is specifically Iranian has dissolved, or been dissolved, into "Islamic tradition." While separating out, reclaiming, and restoring Iranian mythology is implied, decolonizing is not the explicit topic of this conference. Rather, we're interested in illuminating the darkened landscape of the Iranian mythic imagination. As many Iranian women cast off their veil, I believe the task of myth scholars is to unveil the rich mythological heritage of Iran for ourselves and others.
Ten speakers will present on a topic, a motif, a figure, a story, a text, or an idea from the field of Iranian myth that they have researched, written about or taught extensively, and approach their chosen subject with their chosen hermeneutical method. This is a beginning, an opening, an invitation to Iranian and non-Iranian scholars and students to engage with the Iranian mythic tradition, be able to see it clearly, and contextualize it accurately in the greater world mythological record.
NASRIN BEYRAGHDAR PH.D. DEPTH PSYCHOTHERAPIST
WOMEN IN THE SHAHNAMEH
The mythic stories of Shahnameh could be compared to a well-knit texture of coherence and unity and fine nexus of interconnected motifs with a fine Persian tapestry. This colorful string of tightly woven episodes, interlinked either between the various parts of the work, or between each part and the whole indicates that there is a controlling and unifying principle at work in this masterpiece, where each significant episode while bearing a decisive connection to others, is integral to the whole. In Shahnameh, Ferdowsi delicately paid attention to developing women characters in mythical and social aspects and their roles in romantic, heroic, political, martial, and artistic forms and marvelously translated the strength, courage, dignity, and absolute ferocity reflected in women of today's Iran in their fight to establish their right for freedom and equality.
PAUL DARA SHAHPARAKI
THE BOOK OF KINGS: THE KING OF BOOKS
Ferdowsi's Shahnameh tells "story of life." While it is translated as The Book of Kings, it could just as easily be called The King of Books for it speaks to us of universal truths, infinite consciousness, and perennial wisdom. Ferdowsi describes how the world of form issues forth from the formless field of infinite potential, and invites us to align ourselves with this infinite potential to become a living embodiment of the divine. With this power, or what Ferdowsi calls Farr-e-Izadi, we have the ability to create our own universe—our own Big Bang.
OMID ARABIAN
ZAHHAK: AN ETIOLOGY OF EVIL
The story of Zahhāk, the king with serpents on his shoulders, is one of the most compelling and indelible chapters in Ferdowsi's epic Shahnameh. The roots of the Zahhāk myth can be traced back to the Avesta, the sacred texts of Zoroastrianism. Zahhāk's Avestan counterpart is Aži-Dahāka, a three-headed dragon sired by the devil Ahriman and eventually defeated by the god-like hero Thraētaona. But in Shahnameh Zahhāk is portrayed as a tyrannical king and a tool of the devil rather than his progeny; and his vanquisher is Ferēdūn, a youth seeking vengeance for his murdered father. This presentation will delve into the origins and symbologies of the Zahhāk story, and examine how Ferdowsi's somewhat de-fantasticized telling transforms a demonological myth into an etiological study of human tyranny.
SHOLEH WOLPE
DESTINTION: THE BELOVED--SIMORGH THROUGH THE LENS OF THE CONFERENCE OF THE BIRDS
Found in many manifestations and in all periods of art and literature in Iran, Simorgh is sometimes erroneously equated to the phoenix (ققنوس quqnūs) or the huma (هما). In Sufi philosophy, however, this complex mythological bird manifests as a divine figure that exists both outside and within us all. In her presentation, Sholeh Wolpé will explore the figure of Simorgh in the context of gender, divinity and social psychology through the lens of Sufi mystic poet Farid ud-Din Attar's seminal masterpiece.
SARA MASHAYEKH
ROSTAM THROUGH THE GAZE OF WOMEN IN THE SHAHNAMEH
Traditional Iranian storytelling, known as Naqqali, has been a vehicle through which Iranian mythical and epic stories were transferred from generation to generation. The storytellers would often use the epic or mythical story as a framework in order to comment on contemporary politics of their own time. In this performance, in accordance with the tradition of Naqqali, I am using the story of Iran's famous champion and protector, Rostam, to shed light on one of the most important issues faced by the Iranians today: women and women's rights. Multiple women help Rostam in every step of his journey toward greatness; they are the very reason behind his existence and success.
KHODADAD REZAKHANI
ROSTAM: BETWEEN MYTHOLOGY, EPIC, AND HISTORY
Rostam is perhaps the most prominent hero who appears both in the so-called "Mythological" (Pēšdādiyān) and "Epic" (Kiyāniyān) segments of the Shahnameh. A hero of strength, wisdom, cunning, and loyalty, he operates as an outsider and an insider across Iranian literature, art, and imagination. Many have searched for his "historical" identity, but none have followed him across history itself. This presentation, relying on artistic, literally, and mythical depiction of the hero, seeks to find him in his particular late antique historical context. It aims to answer the question of how a hero of Zabulistan became the national hero of Ērān, centuries before the Shahnameh was composed.
JOHN BUCHER PH.D.
JOSEPH CAMPBELL AND IRANIAN ENCHANTMENT
Mythologist Joseph Campbell said "The geographical divide between the Oriental and Occidental ranges of myth and ritual is the tableland of Iran. Eastward are the two spiritual provinces of India and the Far East; westward, Europe and the Levant." Throughout his work, Campbell continued to point to the importance of Iran's place in the landscape of myth and how it could be used as a skeleton key to unlock understandings of some of our deepest psychological longings. In this talk, John Bucher of the Joseph Campbell Foundation offers a survey of Campbell's enchantment with the culture, consciousness, and stories that originated in Iran.
ETHAN FRIEDLAND
THE PERSONAL AND IMPERSONAL ASPECTS OF AVESTAN HAM.VAREITI.
The enigmatic term hąm.varəiti and its derivations appear in the Avesta fifteen times, often in affiliation with major deities such as Mithra and Sraoša. The term has many functions, leading to a variance of translations regarding hąm.varəiti either as a goddess or an abstract concept. I seek to resolve this uncertainty by conducting a comprehensive study of every usage of the term hąm.varəiti within the Avesta. In doing so, I determine that hąm.varəiti acts as a deity, a quality, and a boon. I conclude that these seemingly irreconcilable aspects could exist simultaneously within the ancient Iranian conception of the divine.
TOM CHEETHAM
THE ANGEL OUT AHEAD: HENRY CORBIN AND ZOROASTRIAN ANGELOLOGY
Henry Corbin (1903-1978) was one of the greatest proponents of the transformative power of the Imagination in the 20th century. Some of the most important and powerful ideas in his intellectual vision are derived from Zoroastrian mythology. Many of them are to be found in his 1951 Eranos lecture "Cyclical Time in Mazdaism and Ismailism," which was first published in English in 1957 in Man and Time: Papers from the Eranos Yearbooks edited by Joseph Campbell. Late in life Corbin said "Platonism, expressed in terms of the Zoroastrian angelology of ancient Persia, illuminated the path that I was seeking." These "angelological" concepts were spread widely in the Western world, particularly by literary artists in the United States, in part due to the influence of Charles Olson, the highly influential poet and thinker who was deeply moved and profoundly excited by Corbin's writing. We will explore the continuing relevance of some of these Mazdean figurations for our understanding of the imagination and human life everywhere.
JOHN COLARUSSO PH.D., WILLIAM LINN PH.D.
THE IRANIAN SEEDS OF ARTHURIAN LEGEND
Camelot may seem far removed from Persepolis, but the Nart tales of the North Caucasus provide a bridge between them that must be considered probative as well as simply astounding.
Part 1—The Iranian War Band
The Iranians, with a name derived from the Indo-European, *Aryones, roamed from Europe to China and were the branch of Indo-European directly continuing the Proto-Indo-European nomadic way of life. The Nart tales (Middle Iranian for 'hero') offer the best description of the Indo-European war band. This is a group of one hundred warriors, all of whom are fictive brothers to one another and so linked because of their fictive mother, Satana ('one hundred mother').
Part 2— Arthur and the Iranian Seeds of European Mythology
When Iranian speaking warriors were employed by Rome and given land, their stories came with them: stories of armored knights on quest, tables of equality, truth baring vessels of elixir, weapons that can only be dislodged by the rightful ruler. What this presentation aims to show is that the forgotten parent of Arthurian legend is Iranian. Europe went into the Dark Ages looking like Romans and came out looking like their Iranian speaking mercenaries. Pants, chain mail, heavily armored warriors on horse back fighting for women with handkerchiefs atop towers—this was a familiar scene in 1200 AD when Arthurian legend was taking shape in Europe, but it had been familiar to the Caucasus since 1200 BC.
BANAFSHEH SAYYAD
IRAN, MY MOTHER
An original dance tribute by sacred dancer Banafsheh Sayyad, Iran My Mother represents the heartache, eternal love and bond between mother, child, and homeland as a deeply heartfelt and symbolic tribute to the Iranian mothers whose children's lives have been taken by the Islamic Republic. In this dance, Banafsheh aims to express the deceased children's deep abiding love for their mothers, and for their homeland.